36 Hours in Seattle
Seattle has been on my list for awhile now, so in June CJ and I had a free weekend and decided to take a quick trip up the coast.
We were originally going to fly out Friday mid afternoon but quickly changed our minds after looking at the flight prices.  We later find out that the Blue Jays vs The Mariners game was happening this same weekend so the city was extra busy.  This  led to us booking our flights for Saturday 6am arrival and seeing as much of Seattle as we could in 36 hours. I  must say, I'm pretty impressed with our efforts. Obviously, I'd love to go back and stay a bit longer – there's still so much we didn't see. But if you're ever in Seattle for a short amount of time – here are some of my favorites spots.
Saturday
Saturday morning we dropped our luggage off at the hotel and went straight to Pike Place Market to grab some breakfast and coffee. I'm a lover off all farmers markets and could spend hours here. Our first stop was Storyville for some coffee for Cj and a dirty chai for me. We spent lots of time walking around and brought some fresh fruits to snack on throughout the day.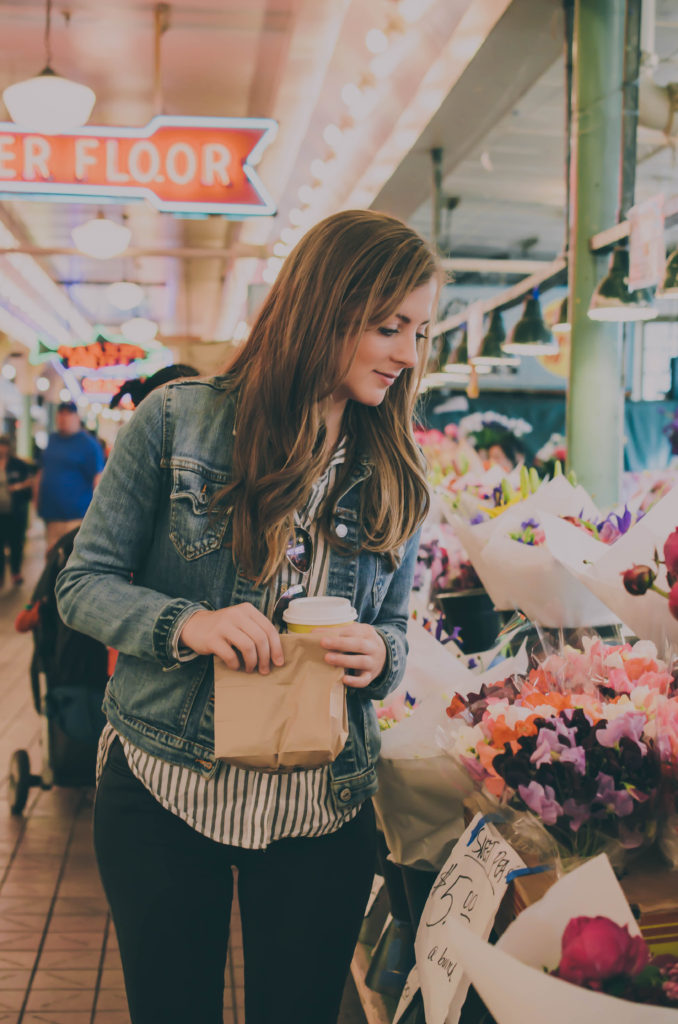 After Pike Place we walked through Olympic Sculpture Park and headed to the Chihuly Garden and Glass and the Space Needle. Not gonna lie, I was pretty terrified to go up the Space Needle – when my friend Jessica and I did the Eiffel Tower tour in Paris last year I basically had a panic attack. SO. FREAKING. SCARED.  Needless to say, I'm pretty happy I went up the Needle – the view was worth it.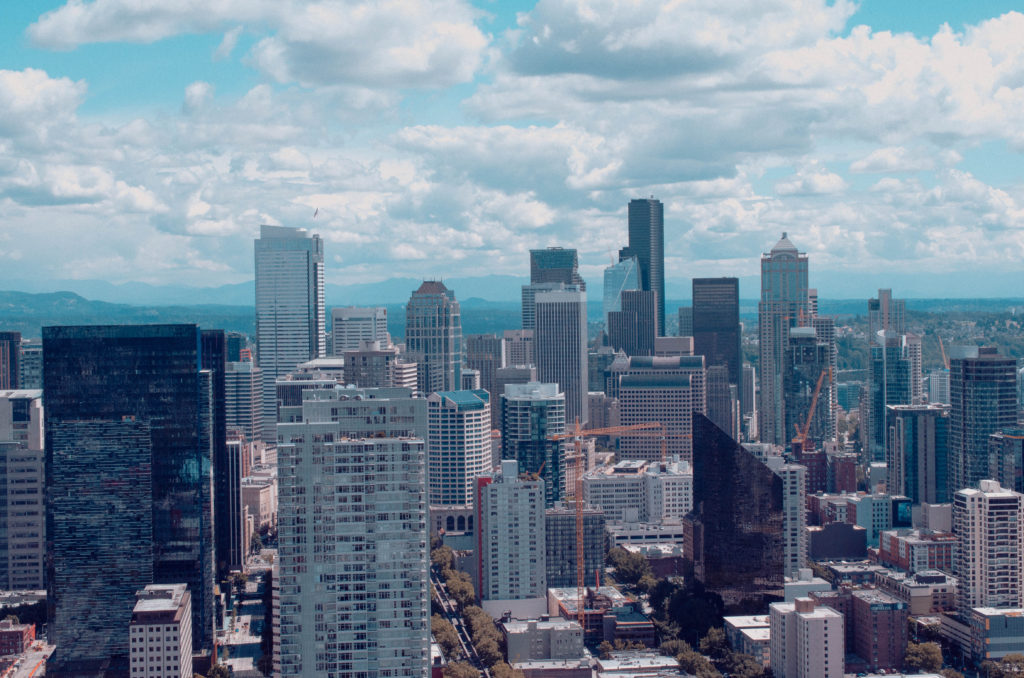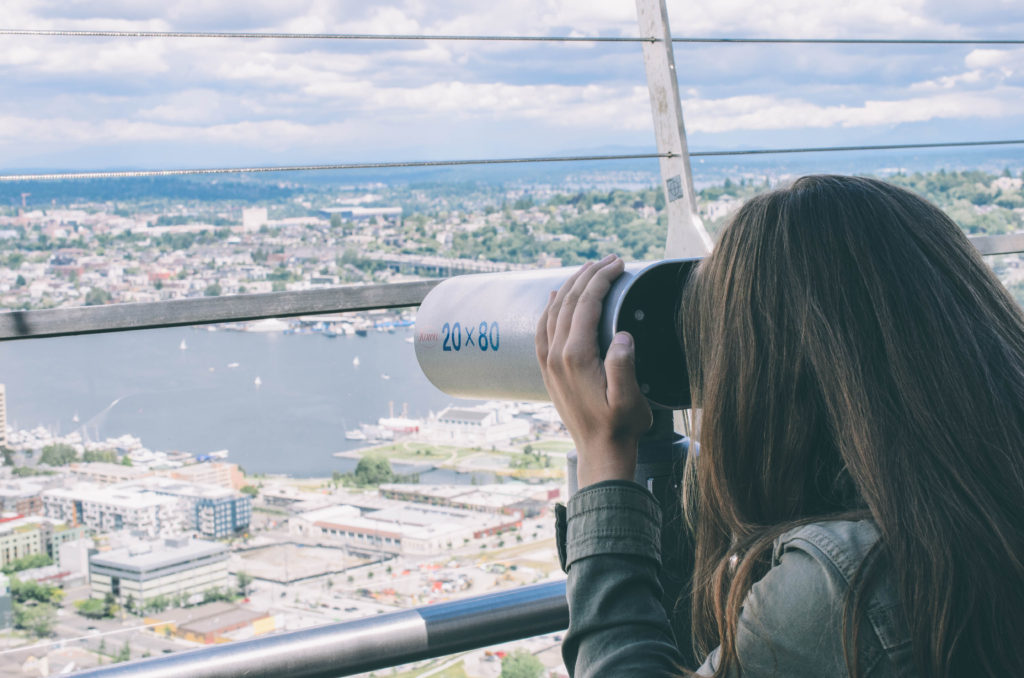 My favorite part of traveling is definitely eating.
Our first stop was No Anchor for some apps and drinks.  We ordered fried mushrooms and garlic aioli pickled mussels (WHAT!) I don't know how I went this long in life without eating these!
We were still a little hungry so we dropped by FOB Poke Bar. I LOVE poke and Cj found this great place that had just opened and was a build your own bowl – I was super excited to try this and it definitely  refueled us.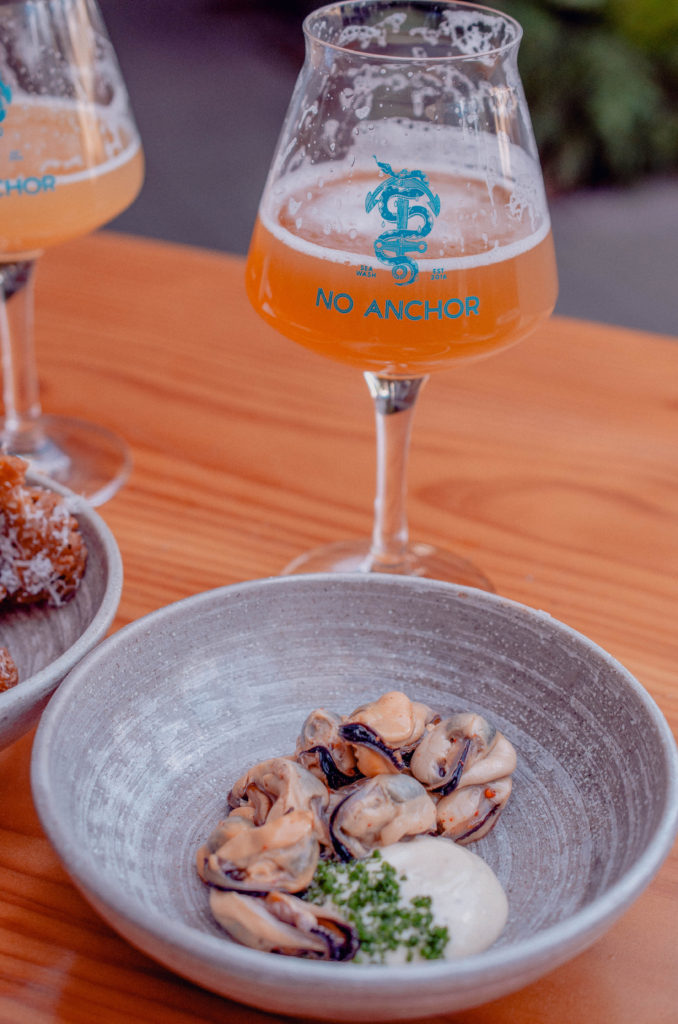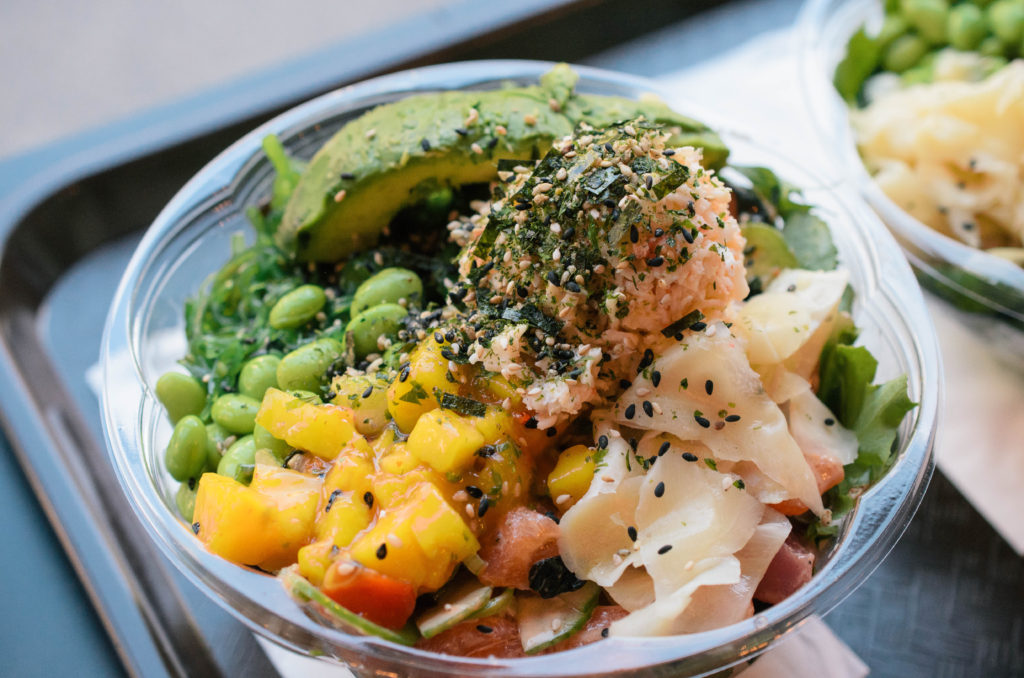 We ventured over to watch the sunset in Kerry Park around 7pm.  We totally forgot that sunset is closer to 9pm this time of year because we were there waiting for a good 1.5 hours.  Around 8pm/8:30pm everyone starts dropping by and lining up with their cameras. I wish we would have thought to bring a blanket or even a bottle of wine to drink while we were waiting.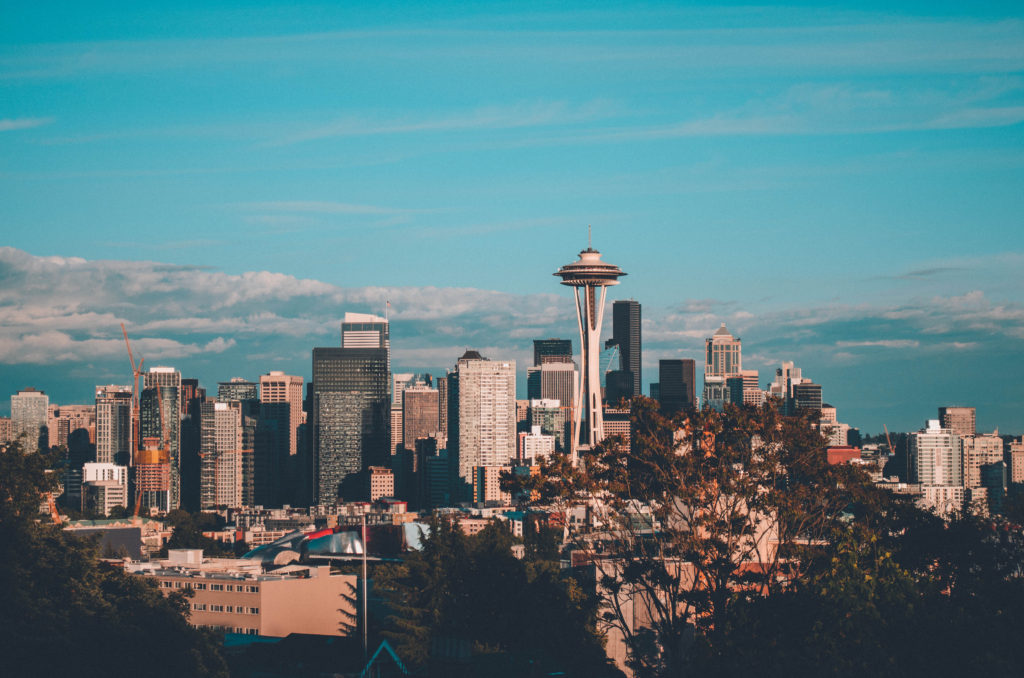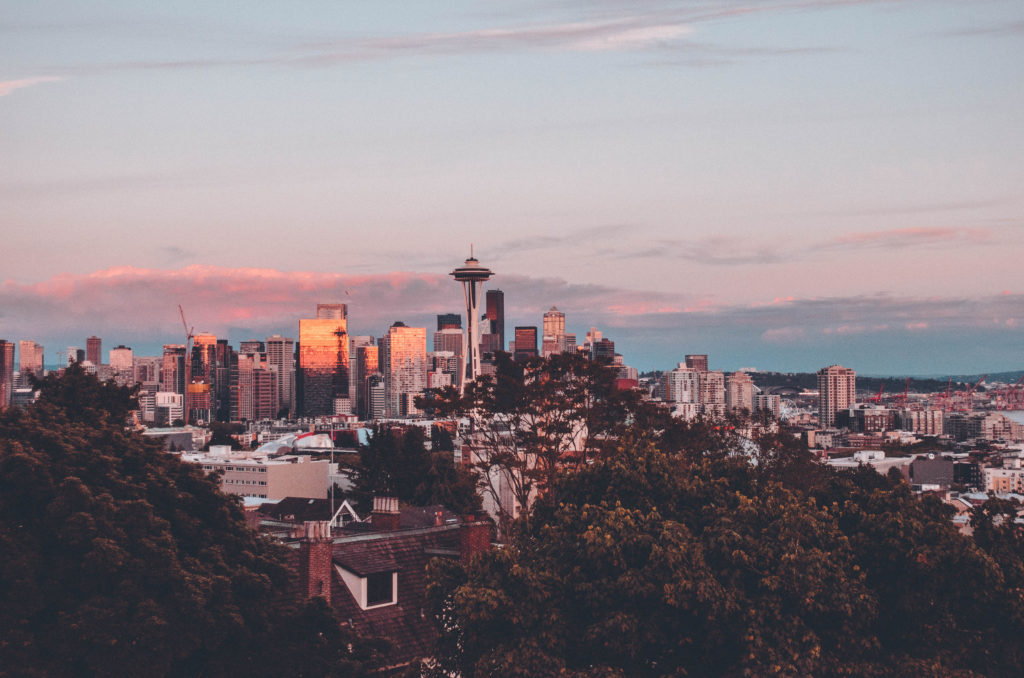 For dinner we decided  to stay local since we weren't actually that hungry. We made a game time decision to visit Matt's in the Market. Matt's was super quaint and had a really great menu. We ordered some bread and oysters to share,  Cj ordered salmon and I ordered pea pureed scallops.  We had a glass of wine and planned what our Sunday would look like.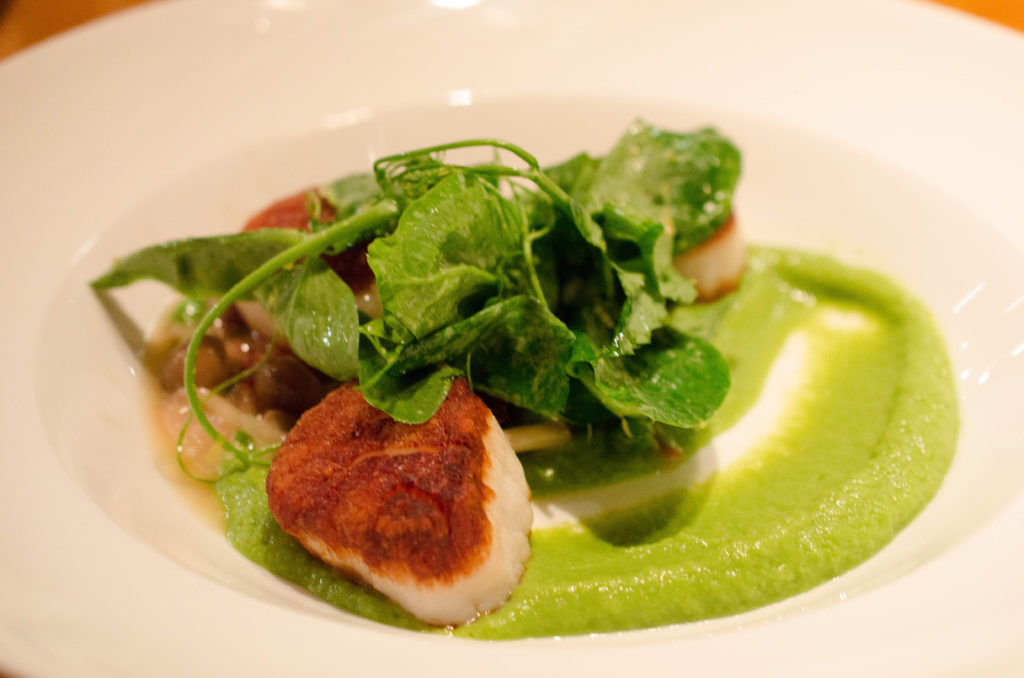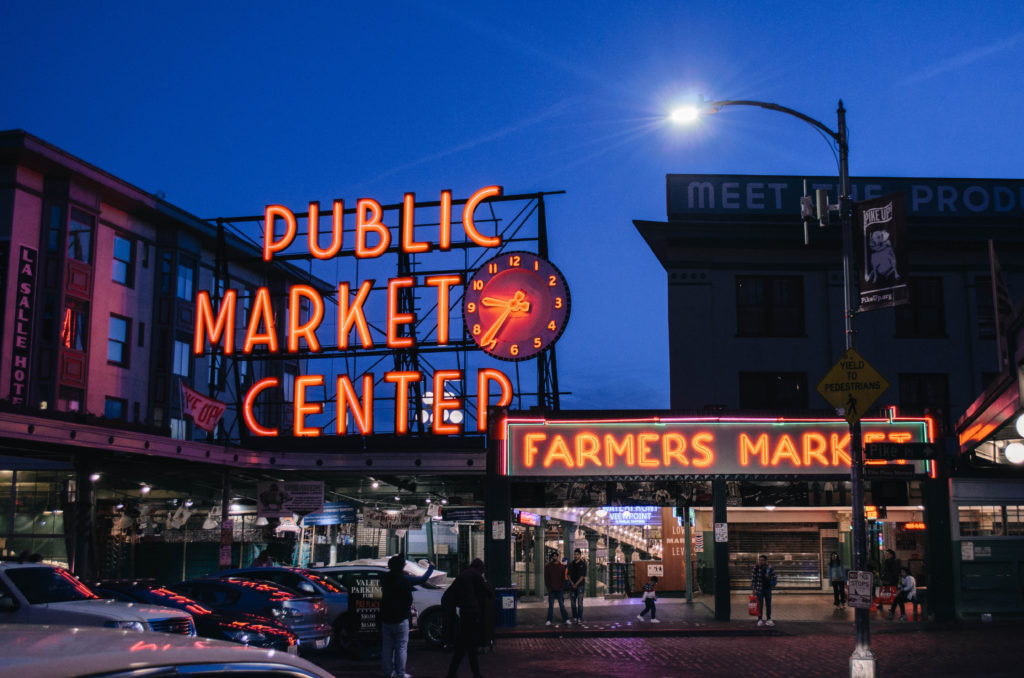 Sunday
Seattle has really great coffee, or at least that's what I hear. I'm not a big coffee person but Cj is, so we spent Sunday morning exploring some of the favorite shops we found. Some of my favorites were in Pioneer Square. I really loved Public House and Elm Coffee Roasters. There are also so many cute shops around Pioneer Square – I felt like I could spend all day there.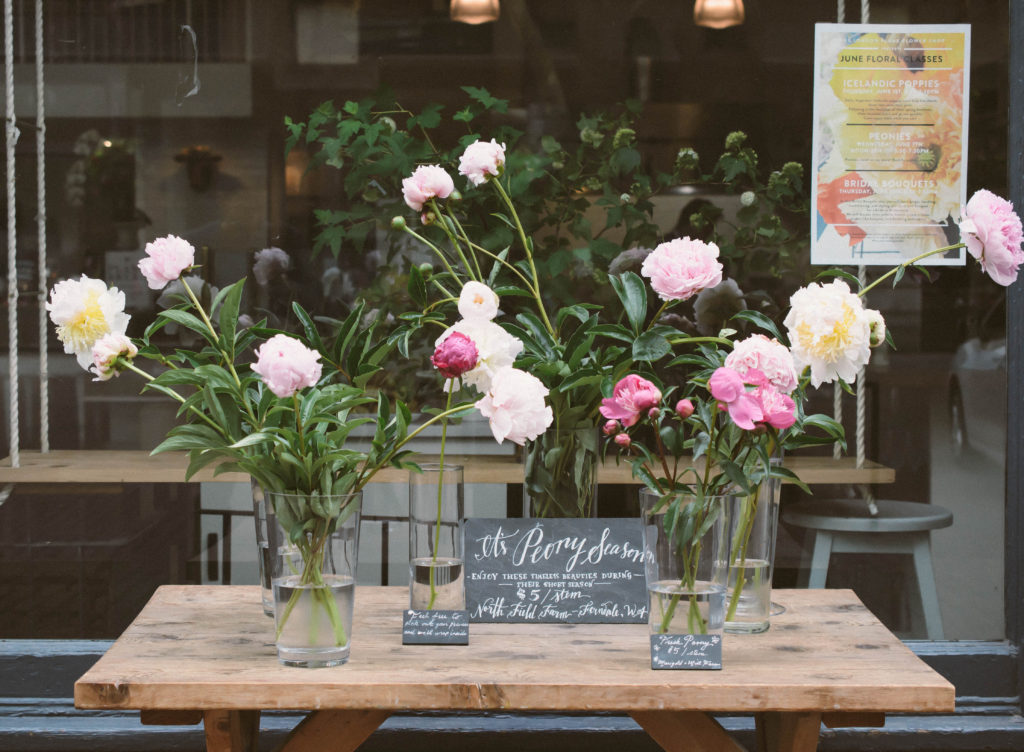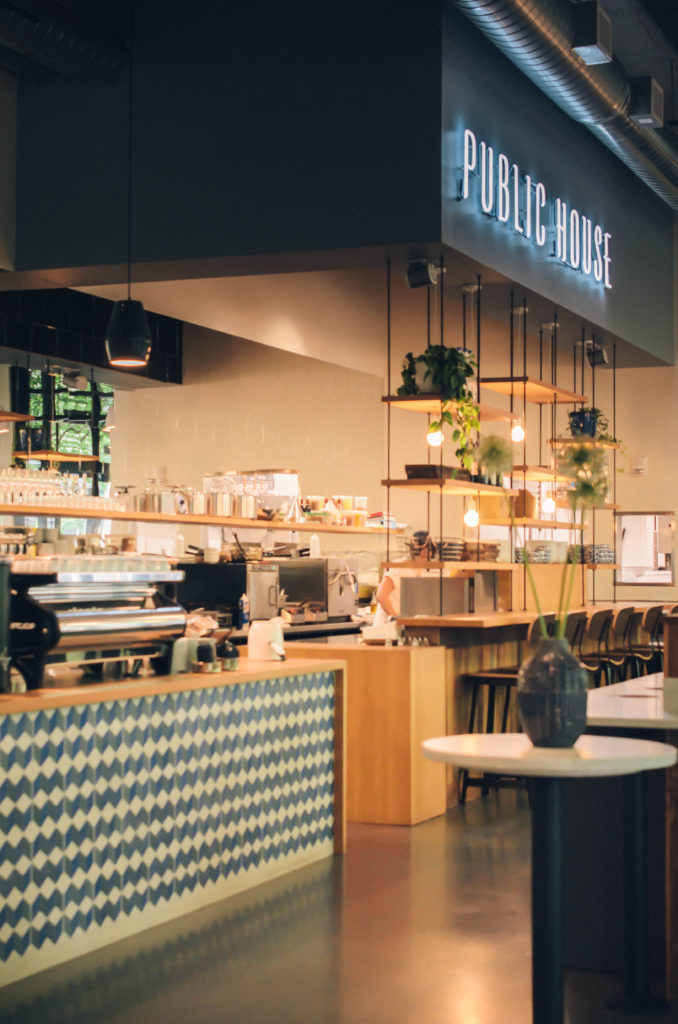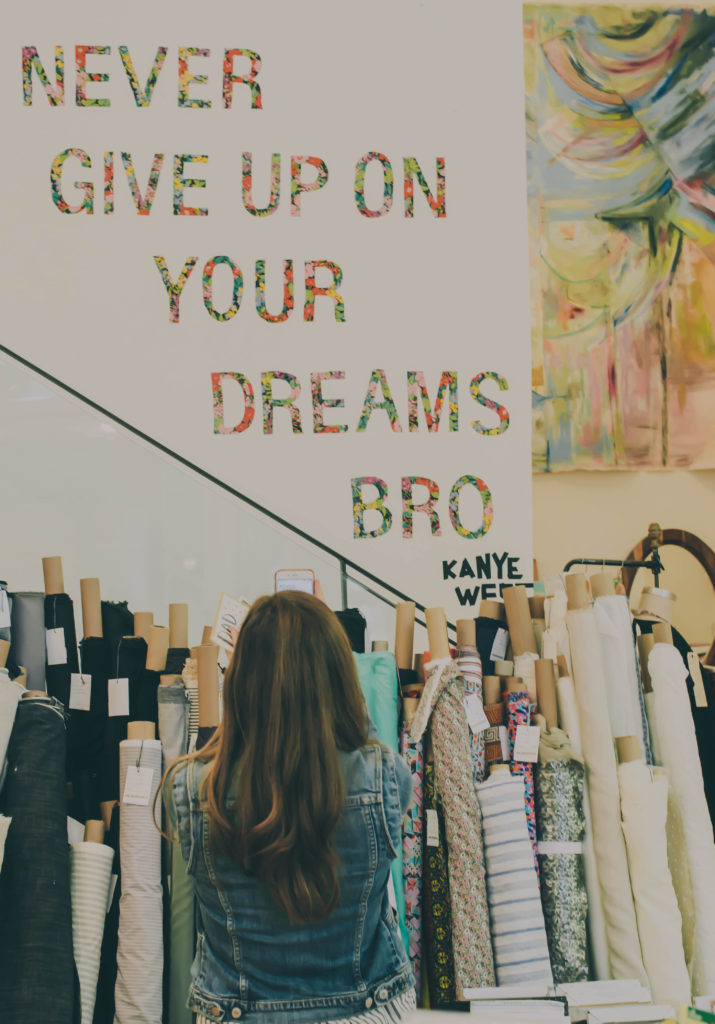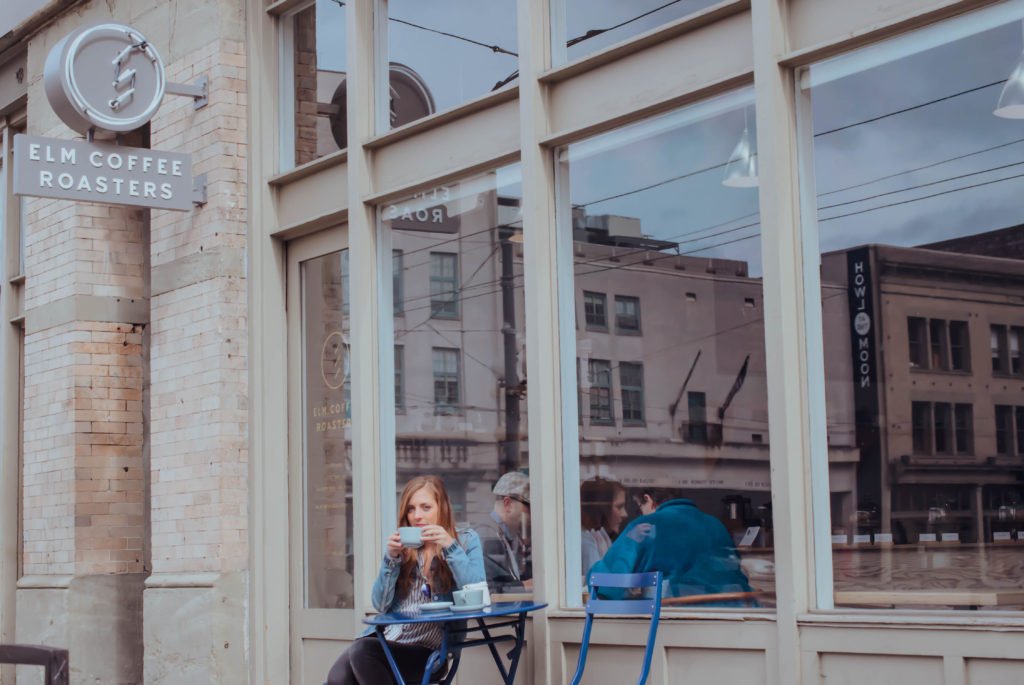 Around noon we started to wrap up our morning coffee tour and were ready for lunch. We headed to our final stop of the trip – Westward.  I am super excited about this place! We got lucky with such a beautiful, sunny day and I was ready to take advantage of that. We arrived to this beautiful view of adirondack chairs overlooking the water.  We had a bloody, a few glasses of wine and enjoyed this Arctic Char Salad and Fried Oyster Roll. I don't think I've ever been more full and satisfied. Westward is a must-do when you're in Seattle!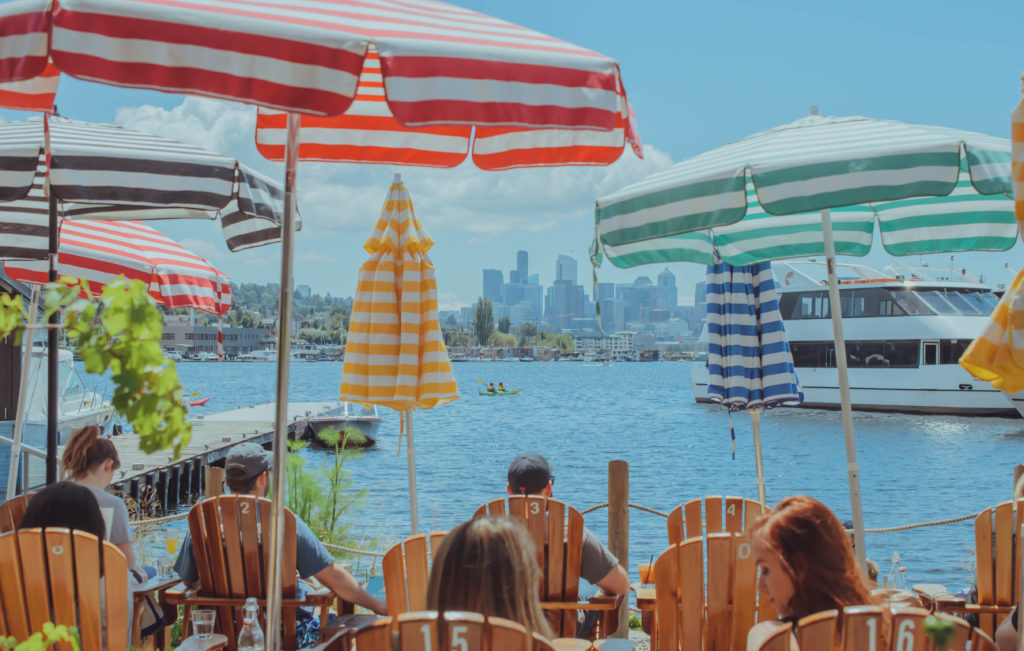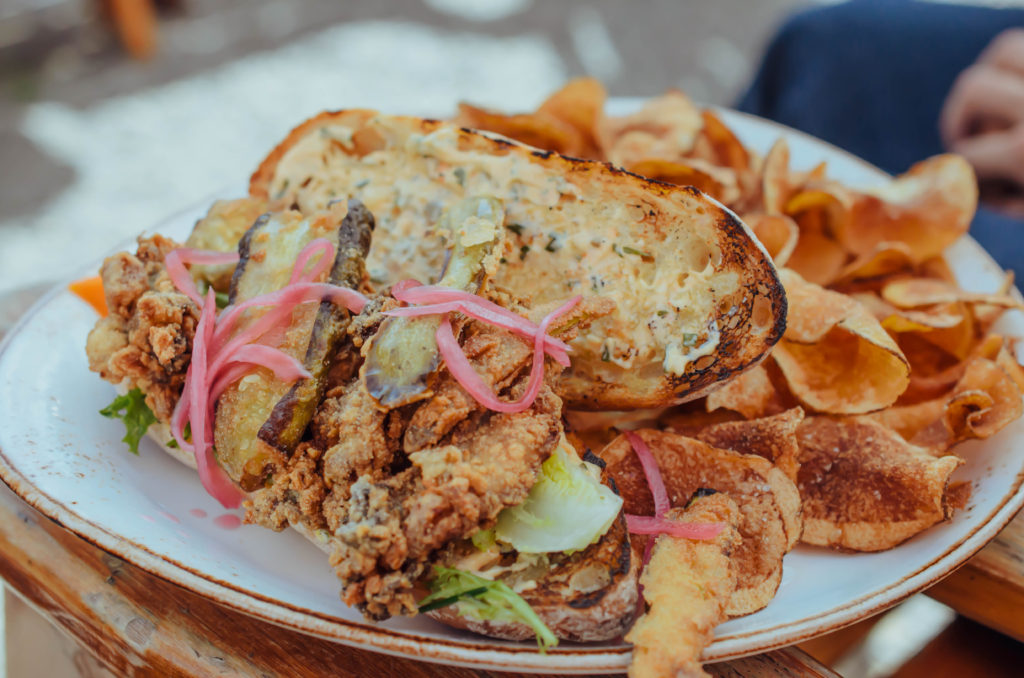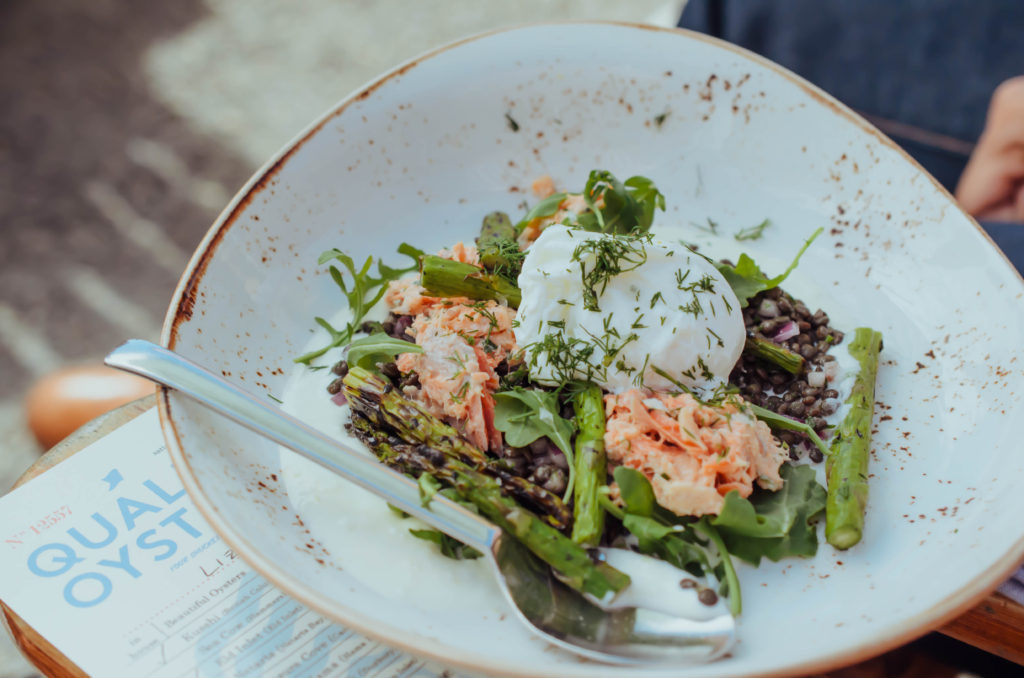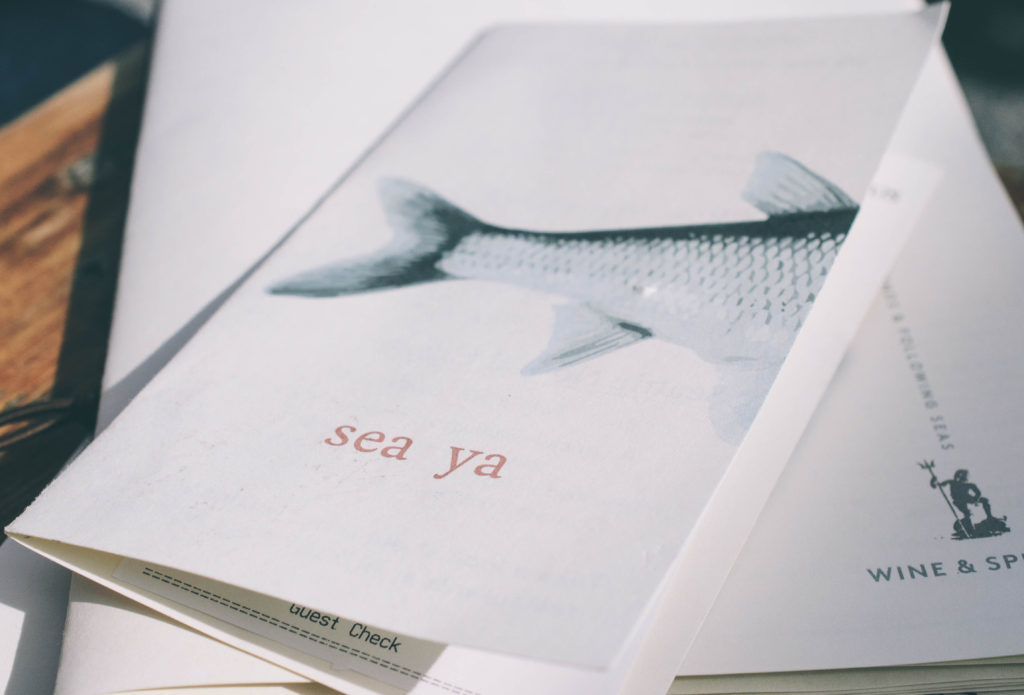 Thanks for reading! Have a wonderful week! 🙂
 post sponsored by: leonamarlene.com